Per Berntsen: Om å fotografere på nytt
Prosjekter som dette har vært gjort tidligere. Min inspirasjonskilde har vært The Rephotographic Survey Project* som ble utført i USA på 1970-tallet. Deres grunnlagsmateriale var fotografier tatt under statlige ekspedisjoner som hadde som formål å utforske Vesten på 1860- og 70-tallet. Disse bildene var tatt over et enormt område; men de var tre fotografer, og brukte tre år på arbeidet. Selv har jeg hatt ca. ett år på deltid til rådighet, men har hatt fordelen av å arbeide innenfor et lite område, hvor jeg dessuten har vært lokalkjent.
Det som antagelig er nytt med dette prosjektet er at jeg for 80% av bildenes vedkommende har hatt originalnegativene tilgjengelig. Dermed har jeg kunnet lage en utstilling med kun originalfotografier i likt format, og kopiert på samme type papir. Fordelen med dette er at de gamle bildene ikke fremstår som objekter, (i motsetning til gamle, bruntonede kopier) men blir frigjort fra nostalgiske referanser, og fremstår som likeverdige med de nye bildene. Med en slik presentasjonsform tror jeg forandringene vil komme tydeligere frem, og bildene vil kunne åpne for nye tolkningsmuligheter og refleksjoner hos betrakteren.
I et prosjekt som dette er sannhet, autentisitet og nøyaktighet sentrale begreper. Det har hele tiden vært en målsetting at «alt» skal stemme i forhold til det gamle bildet. Og for mange av bildenes del stemmer så og si alt. Men med den relativt korte tiden jeg har hatt til rådighet har det ikke alltid vært mulig å få til et 100% nøyaktig resultat, men jeg mener nøyaktigheten er mer enn god nok til formålet.
I ett tilfelle ble det hogd ned skog for å få tatt det nye bildet – Axel Lindahls Såheim, 1892 – et storslått, klassisk bilde av det gamle Såheim, som var selvskrevet til utstillingen. Her var skogen så tett at det var bare så vidt jeg klarte å fastslå at det virkelig var her bildet ble tatt. Med hjelp fra Norsk Hydro ble fem store trær felt, og et panorama ikke fullt så storslått som det fra 1892 åpenbarte seg.
Axel Lindahl: Såheim, 7. juli 1892
Per Berntsen: Rjukan, 2. juni 2004
Per Berntsen: Rjukan, 8. juli 2004
En god del av bildene som har vært kandidater til denne utstillingen har vist seg å være umulige å fotografere på nytt fordi standpunktet ikke eksisterer lenger. Dvs at det befinner seg flere meter under eller over nåværende bakkenivå. I ett tilfelle, Riksvei 37 ved Bjørtuft, ble kameraet bygd opp ca to meter. Her var det tidligere et sidespor med en plattform, hvor det ble lastet stein fra Bjørtuft­ura som ble brukt til anleggene på Rjukan. Det gamle bildet er etter all sannsynlighet tatt fra denne plattformen.
Nesten alle Hydros bilder har datoangivelse, og det ville selfølgelig vært et poeng å ta de nye bildene på samme dato. For meg har vær og lysforhold vært viktigere enn dato, så jeg har forholdt meg mer til årstid enn til dato. Men jeg har forsøkt, i den grad det har vært mulig, å ta bildet i nærheten av originaldatoen.
Som tidligere nevnt har jeg altså hatt tilgang til 80% av originalnegativene. 16 av disse kommer fra Norsk Hydro; seks fra museets egen samling; og ett fra Ole Olsen Bakkes samling. De resterende er bilder tatt av Knud Knudsen (3), Axel Lindahl (1) og Anders Beer Wilse (3). Knudsens negativer befinner seg i billedsamlingen på Universitetsbiblioteket i Bergen; Lindahls og Wilses negativer eies av Norsk Folkemuseum, men befinner seg i Nasjonalbiblioteket i Mo i Rana. Jeg hadde mulighet til å låne mørkerom i Bergen og Mo i Rana og lage kopiene der, men det ville ha tatt for mye tid, og det ville blitt en ekstra kostnad. Jeg valgte i stedet å få laget scanninger av negativene, som har blitt kopiert på farve fotopapir på et laboratorium i Oslo. Altså en slags hybridkopier, laget ved en kombinasjon av digital og analog teknologi. Det ideelle ville selvsagt ha vært å kopiere dem på samme type papir (sort/hvitt baryttpapir) som resten av utstillingen er kopiert på, men nærmeste laboratorium som gjør dette ligger i Paris.
Det er mitt håp at andre fotografer kan la seg inspirere av dette prosjektet til å gjøre lignende prosjekter andre steder. Jeg vil derfor i det følgende redegjøre for utstyr og arbeidsmetoder som jeg har brukt.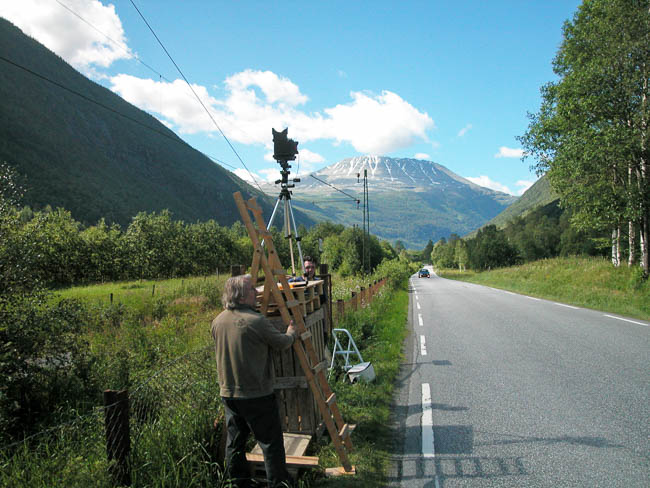 Utstyr
Mesteparten av forarbeidet til dette prosjektet har blitt gjort på PC. Alle gamle negativer har blitt scannet inn i A4, 300 dpi. Det er viktig å ha en scanner som gjør en god jobb med å scanne negativer. Det er også nødvendig å ha en blekkskriver av noenlunde god kvalitet. Photoshop er helt nødvendig å ha – til å behandle innscannede bilder – og, som jeg skal komme tilbake til, som et uunnværlig hjelpemiddel til å finne de gamle bildenes standpunkt.
Avhengig av ønsket sluttresultat kan de ferdige bildene skrives ut på blekkskriver, eller det kan lages hybridkopier på et laboratorium. Eller, det kan lages originalfotografier hvis de gamle negativene er tilgjengelige. Eldre negativer har ofte stort format, og man trenger da en forstørrrer som tar det største formatet i grunnlagsmaterialet. Negativene til denne utstillingen var med ett unntak 13 x 18 cm glassplater. Jeg var så heldig å få tak i en gammel Kodak Specialist 13 x 18 forstørrer, som jeg har brukt til denne utstillingen.
Alle de nye bildene er tatt med et 4 x 5˝ kamera. Det er mulig at 6 x 9 cm kan være til­strekkelig, men jeg vil anbefale å bruke 4 x 5, siden et så stort format gjør det langt enklere å få til et nøyaktig resultat. En annen ting er at man må regne med å ta utsnitt av negativet i de fleste tilfellene, og da kan 6 x 9 bli i minste laget.
Et stort utvalg av objektiver kan være nødvendig – jeg har brukt fem objektiver fra 90 til 250 mm. Men hvis grunnlagsmaterialet stammer fra én enkelt fotograf, er det gode sjanser for å klare seg med langt færre objektiver.
Metoder
Etter å ha gjort et foreløbig utvalg fra grunnlagsmaterialet, lagde jeg utskrifter av alle bildene i A5. Disse ble lagt i plastlommer og satt i en ringperm. Så begynte arbeidet med å finne ut hvor hvert enkelt bilde var tatt. I første omgang brukte jeg A5-utskriften og en løs, justerbar søker ( et speilreflekskamera med zoom gjør samme nytten ) for å finne omtrentlig standpunkt og omtrentlig brennvidde som skulle brukes. Ved å se på lys og skygger i utskriften, prøvde jeg også å beregne når på dagen bildet var tatt.
Alt dette er ikke så veldig vanskelig – den store utfordringen er å finne nøyaktig standpunkt. The Rephotographic Survey Project brukte Polaroidbilder som hjelpemiddel. Ved å ta Polaroider med det samme kameraet som de brukte til å ta selve bildene, kunne de måle avstander og vinkler mellom bestemte punkter i Polaroidbildet, og sammenligne med de samme avstander og vinkler i det gamle bildet. På 70-tallet var nok dette den beste metoden, men jeg var lite lysten på å bruke den, av flere grunner. Det ville bety enda mere utstyr å dra på, og Polaroidmateriale er dyrt. Dessuten klarte jeg å finne opp en annen metode. Den innebærer enkle operasjoner i Photoshop, og utskrift på overheadfilm. Her følger en beskrivelse.
Åpne scannet av det gamle bildet i Photoshop. Påse at det er i 300 dpi
Lag et duplikat av bildet, (Image > Duplicate) og lukk originalen.
Lag et nytt lag i bildet . (Layer > New Layer)
Identifiser de store linjene i bildet - horisonten, hus som fortsatt står, veier, jernbaner, bekker, elver etc. Det er en stor fordel å få med ting i forskjellige plan i bildet - hvis du kun har horisonten, kandet være mulig å finne flere ­«riktige» standpunkter, avhengig av brennvidden du bruker.
Ta bildet opp i 100%
Pass på at det nye laget er aktivt. Velg blyantverktøyet, og tegn med rødt omrisset av de tingene jeg nevnte i punkt 4. Tegn også en firkant i rødt langs ytterkantene av bildet. Passe blyantstørrelse er 5- 6 pixler. Se fig 1. De røde hjelpelinjene skal til slutt skrives ut på overheadfilm, som skal ligge direkte på kameraets mattskive for å hjelpe til med å finne riktig standpunkt. Før vi kommer så langt, må vi finne ut nøyaktig hvor stor denne filmen skal være for å ligge noenlunde fast over mattskiva. Det kan være lurt å prøve seg fram med papir først. Filmen bør være så stor at den ligger låst, men uten å bue seg. Jeg satte også en liten bit dobbeltsidig tape midt på mattskiva for å holde filmen flat. Finn også ut hvor kantene av negativet faller på overheadfilmen - disse må vi maske av i svart.
Lag et nytt dokument i Photoshop. Det skal være like stort i cm som filmen vi skal legge på mattskiva. 300 dpi, hvit bakgrunn. Dra ut guider fra linjalen til overgangen mellom svart maske og billedflate. Velg marquee-verktøyet, og tegn opp den firkanten som blir billedflaten. Velg Select > Invert. Nå er det som skal bli den svarte kanten markert. Velg Edit > Fill, og fyll med svart. Nå har vi en svart maske, se fig. 2. Masken må tilpasses proporsjonene i det gamle negativet hvis de er annerledes enn i det kameraet du bruker.
Lagre dokumentet, og bruk det som en mal senere. Dvs at du tar en kopi av det hver gang det skal brukes, og beholder originalen uendret.
Juster nå størrelsen på tegningen du laget i punkt 6 slik at den passer nøyaktig inn mellom de svarte kantene. Lag en duplikat av malen du lagret i punkt 8, og gi den et beskrivende navn. Pass på at begge dokumentene er åpne. Hold nede Control-tasten – dette aktiverer flytteverktøyet. Dra laget med de røde strekene over i bildet med de svarte kantene. Du har nå et bilde med to lag, og det er lurt å beholde lagene, i tilfelle du skal forandre på det siden. Se fig. 3.
Bildet kan nå skrives ut på overheadfilm. Passe format for 4 x 5-kameraer er A6. Bruk minst 720 dpi, og sett skriveren til å skrive helt ut i kantene hvis dette er mulig.
Filmen beskjæres så til riktig format og settes på kameraet. Den skal stå opp ned, men rettvendt. Nå kan vi endelig begi oss til det antatte standpunktet for det gamle bildet. Bruk det objektivet du mener mest sannsynlig er riktig. Poenget er nå selvsagt å få de røde strekene på filmen til å sammenfalle med bildet på mattskiva. Det vil alltid kreve en del prøving og feiling å finne helt riktig standpunkt, men det vil være en hjelp å fokusere litt frem og tilbake, (til bildet blir helt uskarpt) og se om det blir lettere å få ting til å stemme da. Blend ned til ca f/22 for å få et skarpere, men riktignok mørkere bilde. Når et objektiv fokuseres, forandres nemlig brennvidden, men bildet blir altså uskarpt. På denne måten kan vi simulere kortere og lengre brennvidder enn den som sitter på kameraet. Hvis det er nødvendig å fokusere svært langt i den ene eller andre retningen, prøv å bytte til en kortere eller lengre brennvidde.
La oss si at ingen av objektivene du har prøvd stemmer helt, men at ett er nærmere enn de andre, (men får med litt for mye) og at det lar seg gjøre å få bildet til å stemme ved å fokusere og blende ned. Da bruker du dette objektivet, men fokuserer selvfølgelig på vanlig måte, slik at ­bildet blir skarpt, og tar et utsnitt når du skal scanne, eller forstørre bildet. Mange av de bildene jeg har arbeidet med har antagelig vært tatt med 210 mm på 13 x 18. Dette tilsvarer 150 mm på 4 x 5 – en brennvidde jeg ikke har. Da har jeg måttet bruke metoden som er nevnt over med et 135 mm objektiv.
Når filmen er fremkalt er det naturligvis spennende å se om det nye bildet stemmer. Det mest nærliggende vil være å scanne det nye negativet, og sammenligne med scannet av det gamle. Det gir en viss pekepinn, men jeg synes det er vanskelig å finne ut om de stemmer helt overens. Dette skyldes muligens mine manglende kunnskaper i Photoshop. For meg er det mye lettere å finne ut av dette i mørkerommet – på følgende måte:
Sett det gamle negativet i forstørreren, juster til riktig forstørrelsesgrad, og fokuser.
Legg et hvitt ark i avmaskningsramma, og tegn med svart tusj de samme linjene du tegnet med rødt i Photoshop.
Ta ut det gamle negativet, og sett i det nye. Ved å ta forstørreren litt opp og ned er det nå lett å finne ut om det nye stemmer. Hvis det ikke stemmer, kan du få nyttig informasjon om hvilken retning du må flytte kameraet.
Alle standpunktene til de nye bildene i denne utstillingen har blitt dokumentert med digitalkamera. Jeg har fotografert kameraet på stativ fra minst to sider, og prøvd å få med så mye informasjon som mulig, slik at det skal bli enkelt å finne igjen standpunktet senere. Hvis noen skulle ønske å gjøre dette prosjektet om igjen om 100 år – noe som absolutt ville være å ønske – vil de kunne finne denne dokumentasjonen på Norsk Industriarbeidermuseum.
*Mark Klett, Ellen Manchester og JoAnn Verburg: Second View. The University of New Mexico Press, 1984. ISBN 0-8263-0751-5.
Denne artikkelen ble først publisert i utstillingskatalogen Forandringer, utgitt av NIA i 2005.
Per Berntsen: Changes - a rephotographic project
The town Rjukan in Telemark, Norway was founded in 1907, based on the enormous hydro-electric resources in the area. The company Norsk Hydro built not only power stations and a saltpetre factory, but also the whole town. Before 1907, this was countryside, with a few farms.
In October 2003, I suggested to The Norwegian Industrial Workers' Museum at Vemork, Rjukan, that they should hire me to do a rephotographic project on the town, and the Vestfjorddalen valley, where the town is situated. The idea was well received, and an exhibiton with 30 double photographs opened on May 1st, 2005. (The reason that 2005 was chosen (and not 2007) was the celebration of the 100th anniversary of Norway leaving the Union with Sweden in 1905.)
Projects like this one have been done before. My source of inspiration has been The Rephotographic Survey Project*, which was done in the U.S. in the 1970s. Their base material was photographs taken on governmnent expeditions that explored the American West in the 1860s and 70s. These pictures were taken across an enormous area, but they were three photographers, and spent three years on the project. I have had one year part time at my disposal, but have worked in a relatively small, and familiar area.
What's special about this project, is that I've had access to 80% of the original negatives. Consequently, I have been able to make an exhibition with 80% original photographs, at the same size, and printed on the same kind of paper. The good thing about this is that the old photographs do not appear as objects (as opposed to old, brown toned prints), but are liberated from nostalgic references, and become equals to the new photographs. With this form of presentation, I think the changes will be more obvious, and I also think this could open up for new possibilities for interpretation, and new reflections with the viewer.
Truth, authenticity, and excactness are central concepts in a project like this. It has been my aim that "everything" should be right. And in most of the pictures, everything is right. But with the relatively short time I had, it has not always been possible to get a 100% excact result, but I feel that the excactness is good enough for the purpose.
In one case trees were cut down to make it possible to take the new picture - Såheim, 1892 by the Swede Axel Lindahl - a spectacular, classic view of the old Såheim, which was an obvious choice for the project. The foliage was so dense, that I only just was able to establish that this really was Lindahl's original vantage point. With help from Norsk Hydro, five large trees were felled, and a somewhat less spectacular view revealed itself.
Axel Lindahl: Såheim, July 7, 1892
Per Berntsen: Rjukan, June 2, 2004
Per Berntsen: Rjukan, July 8, 2004
A lot of the historical pictures that have been candidates for this project proved to be impossible to rephotograph, because the vantage point no longer exists. That is, it is located up to several metres above or below today's ground level. In one case, Highway 37 at Bjørtuft, the camera was elevated about 1.5 metres. There was previously a side track here with a platform, where rock from the Bjørtuft Scree was loaded onto the train, for use on the construction sites at Rjukan. The old picture was most likely taken from this platform.
Almost all of Hydro's old pictures are dated, and it would of course have been desirable to take the new pictures on the same date. For me, weather and lighting conditions have been more important than date, but I have tried to take the pictures as close to the original date as possible.
As mentioned, I have had access to 80% of the original negatives. 16 of these originate from Norsk Hydro; six from NIA's own collection; and one from the Ole Olsen Bakke collection. The rest are by Knud Knudsen (3), Axel Lindahl (1), and Anders Beer Wilse (3). Knudsen's negatives are in the University Library in Bergen; the negatives of Lindahl and Wilse are owned by the Norwegian Folk Museum, but are kept in the National Library in Mo i Rana. I was offered to use a darkroom in Bergen and Mo i Rana, and make the prints there, but it would have taken too much time. I chose instead to to have scans made of the negatives, which were then printed on color photogaphic paper in a lab in Oslo. A sort of hybrid prints, made by combining digital and analog technologies. The ideal thing would have been to print them on black & white fibre base paper like the rest of the exhibition, but the nearest lab who could do this was in Paris.
I hope that other photograhers can be inspired by this project to do similar projects elsewhere. I will in the following describe the equipment and working methods I have been using.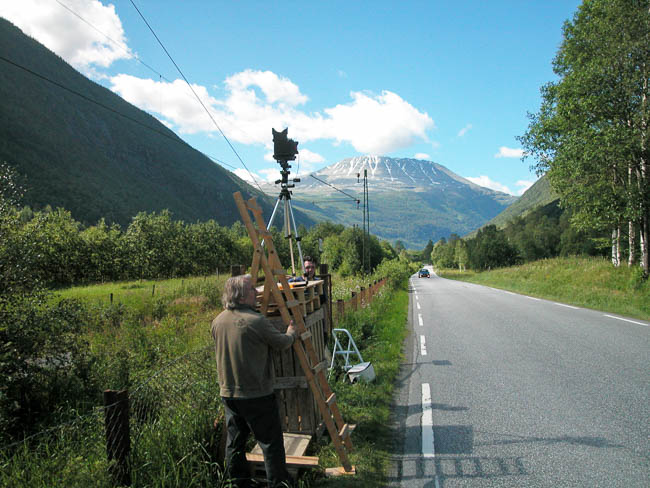 Equipment
Most of the preparatory work for this project was done on a computer. All the old negatives were scanned in A4, 300 dpi. For scanning glass plates, a newer Epson, like the 4990, or V700/750 will do. A good inkjet printer is also neccessary. Photoshop is required - for editing the scanned pictures, and, as I will come back to later, as an indispensable aid in finding the vantage point for the old pictures.
Depending on what end result you want, the finished pictures can be printed on an inkjet printer, or hybrid prints can be made in a lab. Or, real photographs can be made in the darkroom, if the old negatives are available. Old negatives often have a large format, and you will then need an enlarger for the largest format in the base material. The negatives in this project were with one exception (9 x 12 cm) 13 x 18 cm glass plates. I was lucky to get hold of an old Kodak Specialist 5 x 7" cold light enlarger, which I used to make the prints for this project.
All the new pictures were taken with a 4 x 5" camera. 6 x 9 cm may be sufficient, but I recommend 4 x 5 or larger, since the larger format allows for greater accuracy, and generally makes the work easier. A large selection of lenses may be neccessary - I used five lenses from 90 to 250 mm. But if the base material originates from a single photographer, chances are good that one can manage with fewer lenses.
Methods
Having made a preliminary selection from the base material, I made A5 prints of all the pictures. I put these in plastic sleeves in a binder. Then the field work began, trying to find out where all the pictures were taken. To begin with, I used the A5 prints, and an adjustable Linhof finder (an SLR camera with a zoom lens will also serve the purpose) to find the approximate vantage point, and make a qualified guess about what focal length I would need to use for the new picture. By studying light and shadows in the print, I also tried to estimate the time of year, and the time of day the picture was taken.
Then comes the hard bit - finding the excact vantage point. The Rephotographic Survey Project used Polaroid prints as an aid. By taking Polaroids with the same camera they used to take the actual pictures, they could measure distances and angles between certain points in the image, and compare these with the same distances and angles in the old picture. At the time, this was probably the best method, but I was reluctant to use it. It would mean even more equipment to carry around, and Polaroid material was expensive. Besides, I managed to figure out a different method. It involves simple operations in Photoshop, and making prints on overhead film. A description follows here.
Open the scan of the old picture in Photoshop.
Make a duplicate of the image, (Image > Duplicate) and close the original.
Create a new layer. (Layer > New Layer)
Identify the important lines and objects in the image - the horizon, buildings, roads, railways, streams, rivers, etc. It is neccessary to include objects in different planes - if you only have the horizon, it can be possible to find several "correct" vantage points, depending on the focal length you use.
View the image at 100%
Make sure the new layer is active. With the pencil tool, draw the outline of the things mentioned in point 4 in red. Also draw a square along the edges of the image. Suitable pencil size is 5 - 6 pixels. See Figure 1. The red lines will in the end be printed on overhead film, which will be placed on the camera's ground glass as an aid to find the right vantage point. You now need to find out what size this film should be, experiment with paper first. The film should lock itself to the ground glass, without bending. A small piece of sticky-both-sides tape in the middle will keep the film flat. Find out where the edges of the negative fall on the overhead film - the area outside the edges must be covered by a black mask.
Figure 1
Figure 2
Figure 3
Create a new document in Photoshop. It should be the same size in cm as the film we are going to put on the ground glass. 300 dpi, white background. Drag guides from the rulers to the transition between the black mask and the image area. (you have of course done the measurements beforehand) With the marquee tool, select the rectangle which will be the image area. Choose Select > Invert. You have now selected the black mask. Choose Edit > Fill, and fill with black. We now have a black mask, see Figure 2. The mask must have the same proportions as the old negative, if they differ from the proportions in your camera.
Save the document, and use it as a template later.
Now adjust the size of the drawing document that you made in point 6, so that it fits excactly inside the black mask. Make a duplicate of the template you just made, and give it a descriptive name. Make sure that both documents are open. Hold down the Control key – this will activate the Move tool. Drag the layer with the red drawing into the black mask document. You now have an image with two layers, and it may be a good idea to keep the layers, in case you want to change something later. See Figure 3.
You can now print the image on overhead film. Suitable format for 4 x 5" cameras is A6. Use at least 720 dpi, and use borderless printing if your printer supports this.
Trim the film to the right format, and put it on the camera. It should be upside down, but the right way round. Now you can at last go to the supposed vantage point for the old picture. Use the lens that you think most likely will be right. The point is now of course to make the red lines on the film coincide with the image on the ground glass. It will always take some trial and error to find the right vantage point, but it will be very helpful to focus back and forth, (until the image goes completely out of focus) to see if you can get a better match that way. Stop down to about f/22 to get a sharper, albeit darker image. Focusing a lens changes the focal length, but it is sharp only at one focal length. In this way you can simulate shorter and longer lenses than the one which is on the camera. If you have to focus very far in one direction or the other, try changing to a shorter or longer lens.
Let's say that none of the lenses you have tried are quite right, but that one is closer than the others, (but includes a little too much) and that you are able to get a match by focusing and stopping down. Use this lens, but focus normally, and crop when you scan or enlarge the negative. Many of the pictures I worked with were probably taken with a 210 mm lens on 13 x 18 cm. This corresponds to 150 mm on 4 x 5 – a lens I din't have at the time. So I used the method described above with a 135 mm.
Having developed the film, it is of course exciting to see if the new picture is a match. The most obvious thing to do would be to scan the negative, and compare it with the scan of the old picture. This gives a certain indication, but I haven't found out a method to establish how good the match is. This may be due to my lack of skills in Photoshop. For me it's much easier to find this out in the darkroom – in the following way:
Insert the old negative in the enlager, set the magnification, and focus.
Put a sheet of white paper on the easel, an draw with a black felt tip pen the same lines you drew in red in Photoshop.
Remove the old negative, and insert the new one. Set the magnification for the new negative, and focus. By moving the enlarger head up and down a little, it is now easy to find out if you have a match. If you don't, you will have useful information about which direction you need to move the camera.
*Mark Klett, Ellen Manchester og JoAnn Verburg: Second View. The University of New Mexico Press, 1984.
ISBN 0-8263-0751-5.
This article first appeared in Norwegian in the catalog Forandringer, published by The Norwegian Industrial Workers' Museum in 2005. This translation (2009) is slightly rewritten in some places, and an introduction has been added.